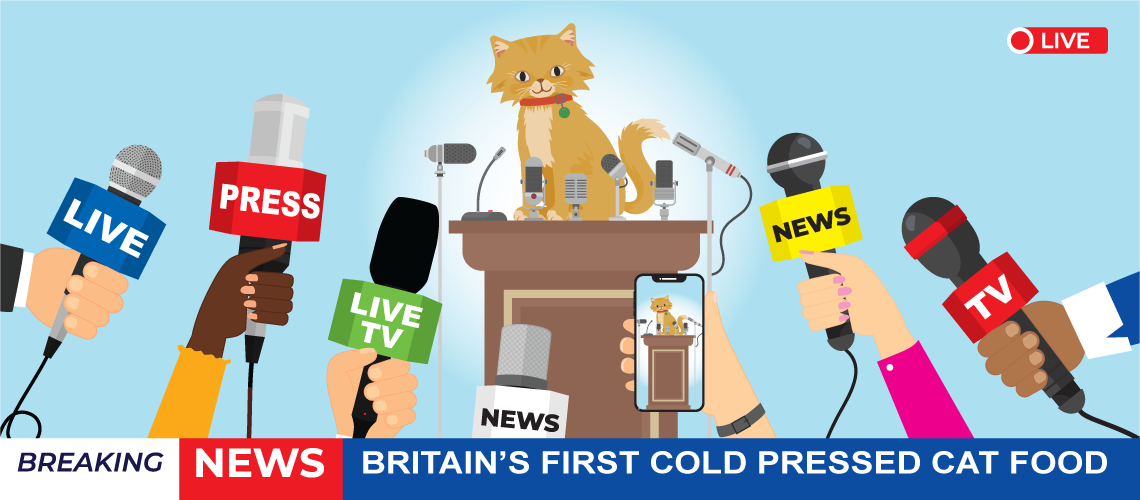 Yes, you read it right: Guru is now welcoming feline friends to the world of cold pressed pet food.
Having seen how our pooches thrive on nutritious Guru pet food, we thought we'd better share its goodness with our feline friends. So we're launching Britain's first cold pressed cat food, with our new Purrfectly Pressed Cat Food. High in protein and packed with feline-friendly nutrients, our new range has everything your cat needs for a healthy diet.
However, as we all know, cats are renowned for their discerning palettes. In other words, they can be fussy and they might be a bit wary of a new type of food at first. Let's take a closer look at cold pressed cat food and whether it's the right option for your furry friend.
The nutritional benefits of Cold Pressed Cat food
Cold pressing is a method that involves taking natural ingredients and pressing them at low temperatures (never above 50oC). Low temperature pressing preserves more of the food's nutrients, making sure that your cat isn't missing out on that natural goodness unlike some commercial cat foods that use high temperature cooking methods.
Cold Pressed cat food for dietary needs
When ingredients are heated at high temperatures they can change, for instance starch which is found in many foods can become harder to digest. As Cold Pressed food is not heated at high temperatures it breaks down more easily in your cat's tum which helps with digestion and because we add ingredients such as Yucca their stools will be less smelly: great news if your cat uses a litter tray. So if you have a cat with a sensitive tum, our new Guru cat food is an excellent option.
Holistic health for your pet
Guru's cat food is rich in oils and minerals. We add natural fish, linseed and rapeseed oil to our cold pressed food, so not only are our cats' tummies happy, but Guru will help their coats stay soft and glossy and their skin in great condition.
Guru is also designed to appeal to fussy cats' appetites and it's been lovely to see how the most discerning moggies respond to the smell and taste of Purrfectly Pressed.
Switching from commercial cat food to Guru
Do you think that Guru's cold pressed cat food could be the purrfect new menu for your feline friend? Well if you're thinking of switching, make sure you take it nice and slowly. Head over to the Feeding Guide page on our website for more information on recommended introduction periods, feeding quantities and how to make a gradual transition from their previous cat food.
On a final note, we're delighted to welcome cats to our Guru family and we're looking forward to hearing from our purry new diners. If you have any questions please get in touch with the Geeksters at Guru as we're always here to help.
Thanks for reading… lots of love from,
The Guru Geeks xox