SHAKING UP OUR FOOD ROUTINE #FroGuru
20th June 2019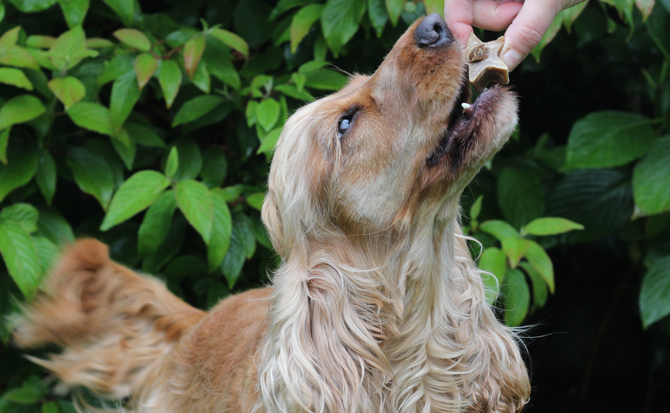 Guru is a Cold Pressed Food that we feed to our two Spaniels Madeleine and Felicity. We feed it as we believe, for our dog's, it's the best food we can give them! The top quality ingredients are cold pressed at low temperatures which helps retain their flavour and nutrients.
Guru can be fed as a dry complete meal straight from the resealable bag or you can add warm water and feed as a wet porridge type consistency. This is great on a cold morning and also makes the food more versatile.
We have many other ways in which to shake up your food routine. The first being to fill Kong type toys, which we do using wet Guru and it keeps the girls entertained whilst enjoying their meal time. Another thing we like to do, is to make our own home made treats. We use Guru to bake pupcakes, biscuits and make frozen treats too. These are great on a warm day, but as we've learnt recently, they're also great for mental stimulation, especially if recuperating from surgery.
Madeleine has had two patella operations and a total hip replacement. This has been so hard for her as she needed crate rest as well as many pain medications. With any dog, on crate rest or not, you need to keep them mentally stimulated. So, we use frozen Guru as part of our daily routine now.
Firstly, measure your dogs' daily allowance and take some of the Guru from this to create the frozen treats, this helps to maintain weight control.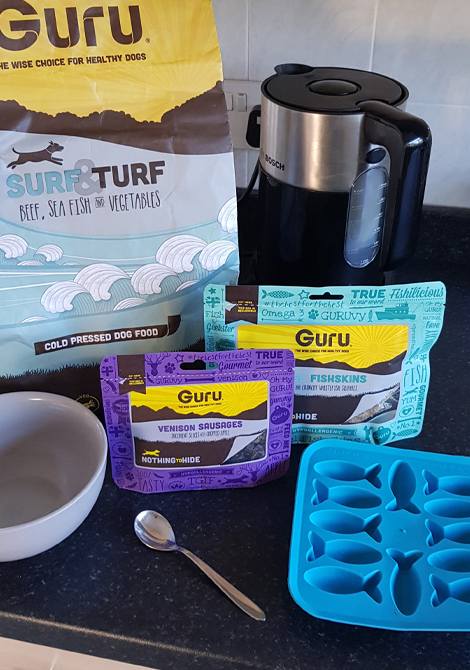 So here's how to make frozen Guru treats (#FroGuru)…
1.We pop some Guru bites in a bowl and add just boiled water.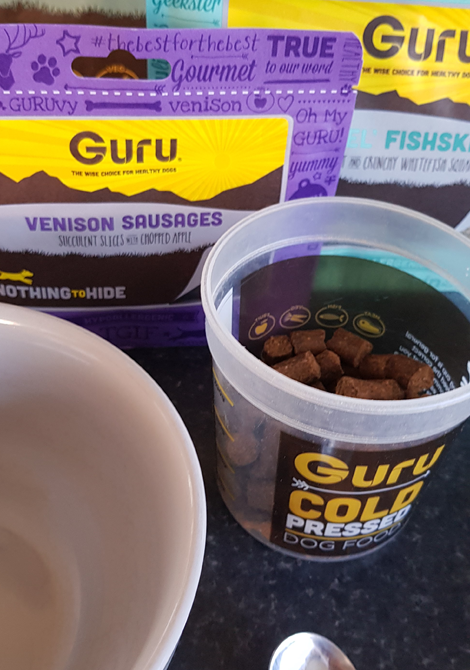 2.Wait for 5 minutes then mix.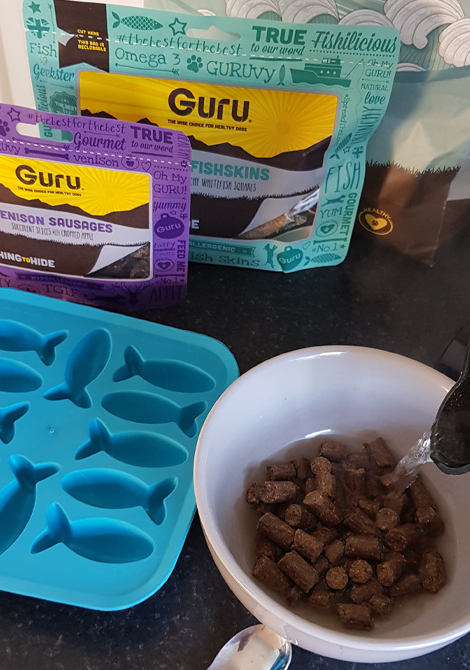 3. You should now have a sloppy type consistency, if it's too thick just add a little more water.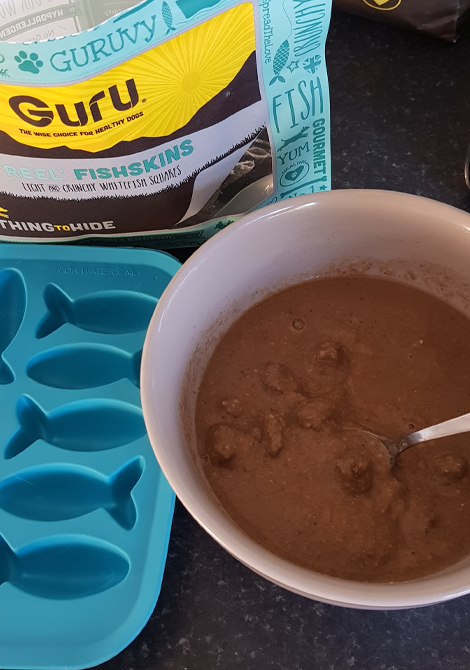 4. Spoon this into an ice cube tray of your choice.
Now for the fun bit…
5. We like adding slices of Guru's venison sausages or cut up Guru Fish skins to make a tasty addition.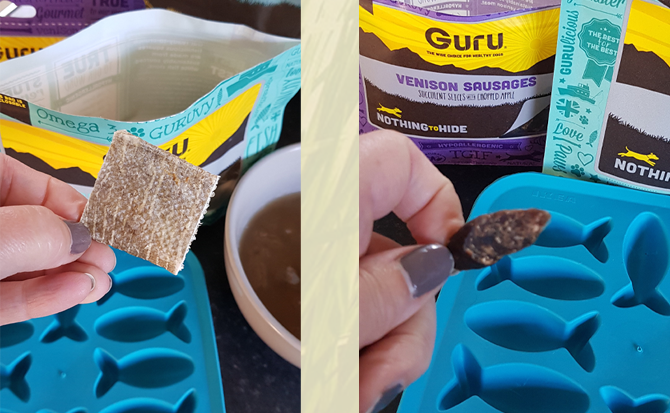 When we use our small fish shaped trays, we like to add the treat as a fin for fun or we add sausage slices into our stars.
6. Clean up around the edges and place in the freezer for an hour or so.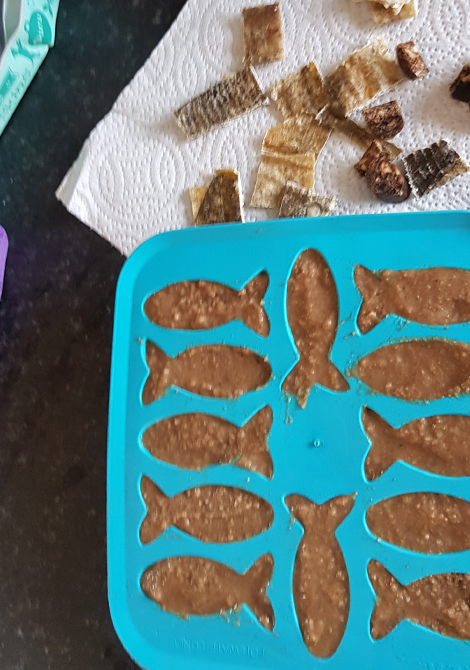 7. Any spare Guru we add to a small bowl and add a treat again. These we use on the lawn for a sunny day as a complete meal. Our girls love to laze with their supper that way and again it's shaking up their usual routine.
8. Leave in the freezer until frozen and then pop out into a freezer bag or bowl. These can be kept like this in the freezer and with the empty tray you can get making some more.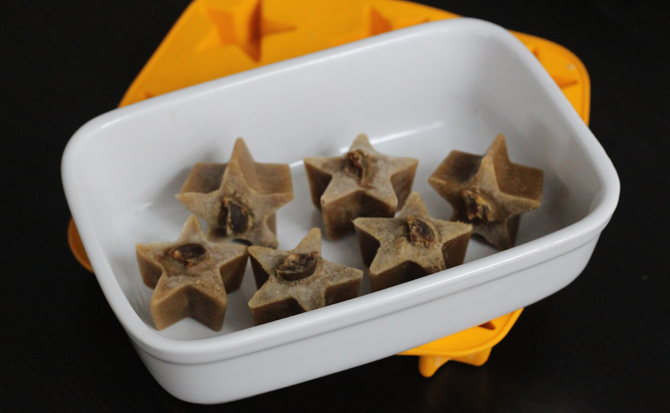 9. Time to eat …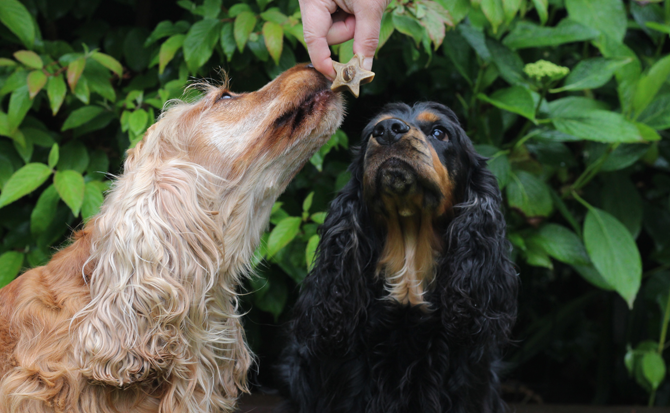 Our girls enjoy them as a treat. If they are doing tricks or if they have behaved, we use them as a reward.
If Flossie didn't (for once!) bark at the postman she gets one and already runs straight to the freezer door – clever girl!
Madeleine has them after her tablets as a treat for taking those or when we want her calm in her pen we give her one. She happily sits munching away and then settles nicely.
They're great for warm days but we've found them an invaluable way to reward the girls no matter the weather.
Changing the way you feed, in a toy or as a foraging game, really helps keep their mental stimulation up. So for us, Fro Guru is here to stay whatever the season!
Love Miss Maddie and Family x
As you can see, #FroGuru is a hit with many Geeksters… why not give it a go?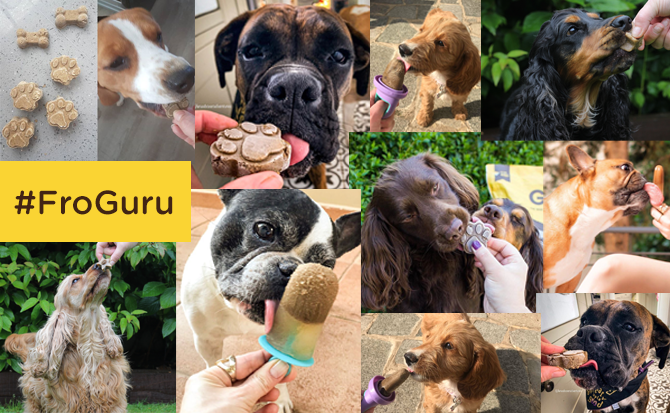 Check out Miss Maddie & Fliss Flossie's Instagram accounts here: @maddie_and_family @flossie_and_family