Springer Spaniel Summer
11th July 2019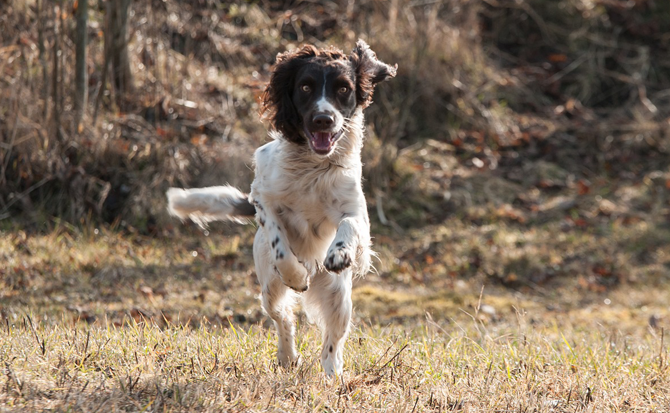 Why we love these spaniels
Thinking about getting a Springer Spaniel this summer? Go on – they're fantastic pets, and we Guru Geeks think they're one of the loveliest-natured dogs around.
Here's why we think you should seriously consider welcoming a Springer into your family.
Springers are super-smart
Bred to be working dogs, the cheerful Springer is intelligent and seemingly tireless. Because they are so receptive to learning, Springers are an absolute joy to train. Their reputation for intelligence goes way back, and they're mentioned as being good prey "flushing" dogs as long ago as the Middle Ages. These days, most don't flush out much game; however, their curiosity and intellect make them superb companion pets.
They're sociable and friendly
Springers enjoy being around people, and so are really loyal and affectionate pets. Thanks to their calm temperaments, Springers are generally great with children. They love being part of the family; however, they're also great one-to-one companion dogs. If you're looking for a partner for long country walks, or if you have an outdoors-based job where a dog is appropriate, a Springer is perfect company.
They're tolerant and calm
If a Springer Spaniel were a person, you'd describe them as "reasonable." The Springer is proof that you don't have to be excitable to be energetic and fun. This wonderful tolerance is a key part of the Springer character, and is one of the reasons that they're such popular dogs. Their combination of playfulness and an almost hippy-like calm makes them perfect family pets. They'll even hang out with the cat (although the cat may need some more purr-suading).
Their skills at agility are impressive
Because they're highly intelligent and full of energy, Springers excel at agility. Even if you have no plans to enter your pet for shows, agility training is still a good way of keeping your dog entertained and happy –  Springers are easily bored. Reward your training dog with our Reel Fishskins treats, which are packed full of nutrients for those gorgeous, silky coats.
They have brilliant ears
Well, just look at them… Need we say more? Springer Spaniels have the loveliest of faces, flanked by a pair of long, silky ears. Watching their ears stream behind them as they tear across the park or beach is one of the many joys of having a Springer. Simply beautiful.
And their tails are great, too!
Springer Spaniels really are fine-looking and their tails can be magnificent. Plumey and sweeping, Springers tend to carry their tails level with their bodies – and they're always wagging them! This really is one of the breed's most appealing physical characteristics.
Springers are a joy to groom
Now, you're probably used to seeing "low-maintenance coat" listed as a plus point for many breeds. And we agree – less grooming means more time for play with your best furiend. No-one could describe a Springer's long, silky coat as low maintenance – but there lies the joy. The daily grooming routine is actually a lovely, bonding time; and because Springers are such tolerant dogs, brushing them is relaxing rather than stressy. The end results are always hair-model-smooth and utterly gorgeous.
Have we convinced you yet? There are few breeds that can be described as both high-energy and laid-back, yet the super Springer walks this line beautifully. A wonderful companion.
As always, thanks for reading Geeksters and we hope everyone has a great staycation or vacation this summer!

The Guru Geeks xox