Flossie's Guruvy journey: Pup to Princess!
1st May 2018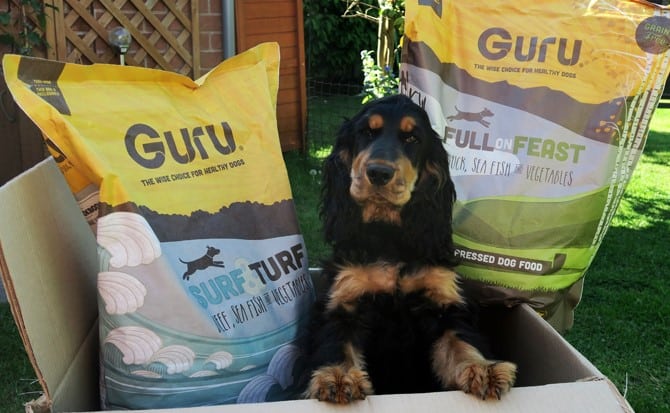 Have you ever wondered if Guru is the food for your puppy?
If it really is as the Guru Geeks say 'The Best For The Best'?
We sure want the best we can get, so when deciding to find a sibling for our 2 year old Geekster Spaniel, Maddie, we wanted 'The Best' for our new baby girl. The best breeder, the best parents and the best start in life for her. This meant Cold Pressed from the start.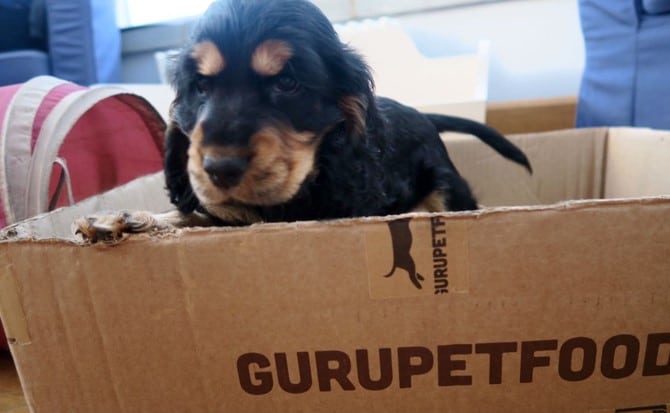 For those that maybe haven't heard of Guru, it's human grade food containing high quality vegetables, fruit and muscle meat, that is ground, then mixed together. This preserves all the nutrients before it's Cold Pressed at low temperatures. We wouldn't feed them anything that we wouldn't eat ourselves? Maddie has been thriving on it for the last two years (Check out Maddie's blog here) so it was going to be the same for her sibling.
Flossie was the first born just after 11pm on January 13th. A beautiful bundle of black and tan followed shortly by her stunning brothers just after midnight. We chose her from that very night and followed from afar, until we finally got to meet her.
They really had the most attentive Mummy who cared so well for them. As weaning approached Flossie and the litter were given their first taste of Guru, crumbled and then mixed with warm water.
The outcome was snoozing puppies with the food not just on the inside, but on their paws and noses too. Happy and content after every meal!
We visited Flossie regularly and got to watch the litter thrive and grow so quickly. Their coats glossy and their playfulness was addictive to watch. Happy puppies just what we dreamed of. The litter was transitioned from wet Guru to dry by slowly reducing the amount of water added, so the porridge type consistency became thicker. Eventually by 7 weeks they were happy to eat it dry. Choosing the smallest bite size pieces or crumbling the larger ones she thoroughly enjoyed meal times and licked the bowl clean.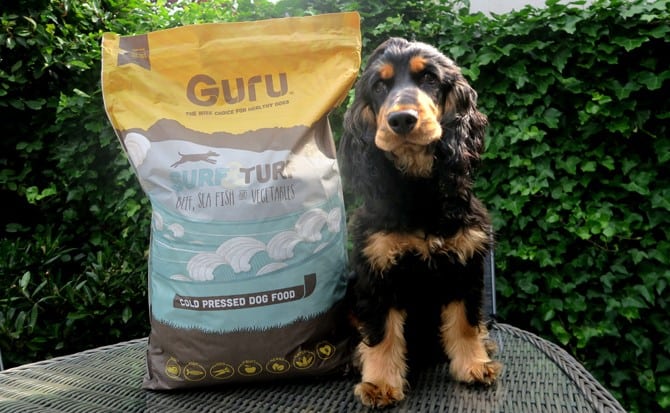 The time came when we finally got to bring her home. Armed with a puppy pack from Guru, Flossie was wrapped up warm and ready to start the second part of her life, with us. She was an angel, sleeping through the night, playing with Maddie and she even stole her big girl bed most days! Her energy, her coat, teeth and health was perfect. The vet was impressed saying 'Whatever you are doing, just keep on doing it' That was all we needed to hear.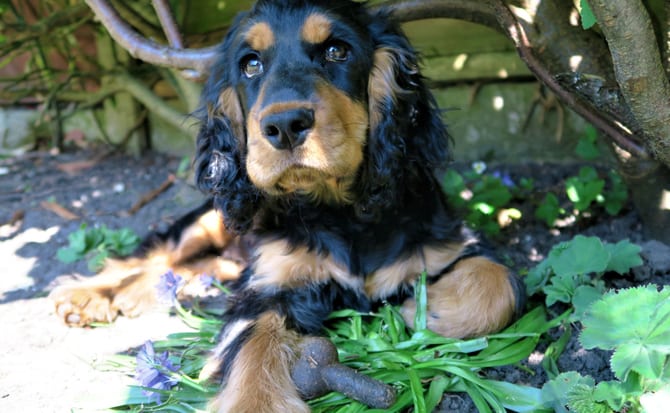 At 9 weeks Flossie tried her first Cold Pressed Trip Bone, a meal on the go, or for Flossie who was still awaiting that first walk, a meal in Maddie's big girl bed after she stole it again! She loved it and whilst supervised she munched her way through. They have become a Flossie favourite, meal times and days out they are the perfect meal to pop in your handbag. The same healthy Cold Pressed goodness just ideal for our Floss.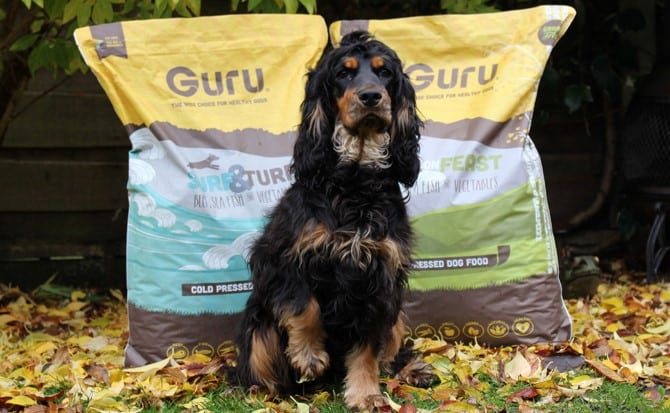 We used the puppy slider on the Guru feeding guide and monitored Flossie's weight. Puppies can eat the exact same Cold Pressed right through to adult and senior as it's so gentle on their digestion and contains all the goodness she needed to grow. The only thing she did need was a larger amount as she grew. Meal times were enjoyed as was the puppy post meal slumber.
She was the happiest little girl and even more than we could of wished for. She was playful, glossy and enjoying her food.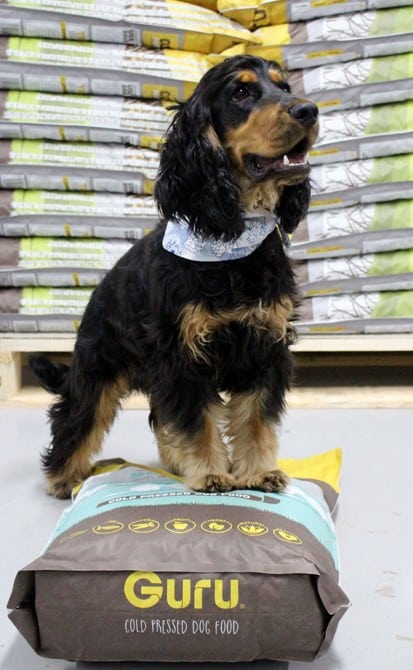 Guru have two recipes, Surf and Turf which is Beef, Sea Fish and Vegetables or Full on Feast which is grain free. This is Duck, Sea Fish and Vegetables and reading those ingredients on the bag, it sounds like our favourite Sunday Roast … yummy.
We feed our girls both flavours. There really is no reason for this as both are fine with the brown rice in Surf and Turf, but we like to serve them one in the morning and the other in the evening. The Trip Bones are Chicken and Vegetables which, as we already said, Floss adores. We wet the Guru and use it to fill our kongs or to make fun ice cube treats with extra carrot or banana on those rare Summer days. They are fun to make and she loves playing on the lawn with them. We've even started baking healthy treats with Guru and they've been given a paws up too!
Off lead training has been a dream as we use Guru's air dried British Venison and apple slices. Just a shake of the packet and she's back in a flash. Our saving grace to get an energetic Spaniel's attention when she's happily off swimming and chasing her friends.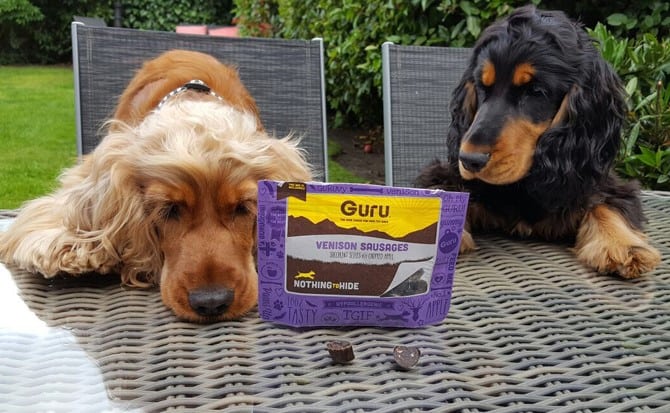 She has hit all her milestones with flying colours, her coat is so soft with the cold pressed oils from the Guru. When asked on a walk what we use to bath her, we explain it's the food we put in that gives her the shine, not the bubbles we use to wash off the mud.
As she's so quickly passed her first birthday last month, Floss has now been on Guru a year and she's an ideal weight at 11.5kg. She has energy on her off lead walks and easily surpasses her tracker 9000 steps target. Her stools are solid and pick up easily, her breath doesn't smell and unless a naughty visitor lets her steal some thing she shouldn't, then there's no nasty gas smells either. No getting away with blaming the dog any more!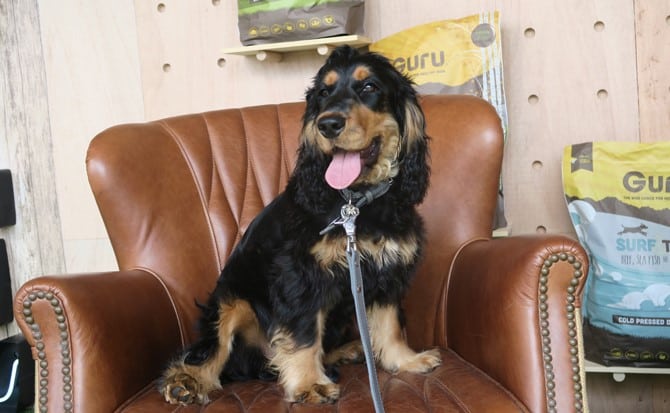 To us there really isn't another option. It's cold pressed all the way for our girls and we know for us it is the best we can give them.
So would we recommend Guru for new puppies? Oh yes 100%
Would we change anything we did? Not a chance!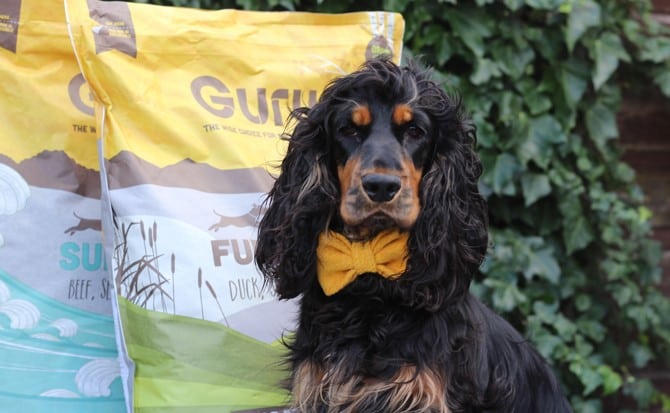 Flossie is the perfect baby Sister and we love her with all our hearts. Whatever did we do without her? She fills our home with laughter and love and for all that she's brought to our family we are giving her the very best right back.
We love you Floss
We love you Guru
x
A perfect blog by a perfect princess! If you want to see more of Flossie's adventures, check out her Instagram: @Flossie_and_family
Or why not check out her and her big sissy's brand new blog page HERE.