Dog food fit for humans proves a hit with pet lovers
12th February 2016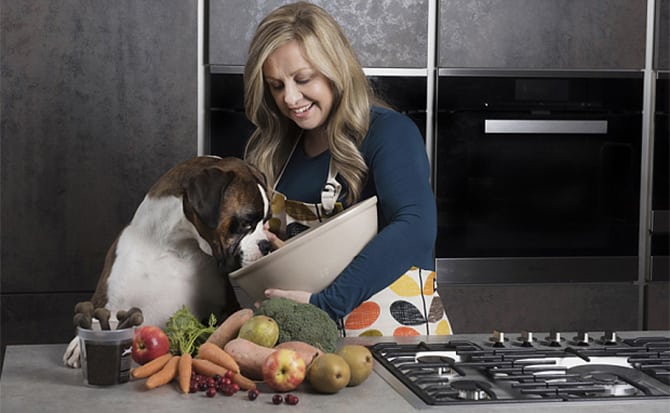 Please click here to read this article on The Daily Telegraph website.
A new kind of dog food has become a surprise hit with pet lovers around the world, helping its inventors to hit a forecast revenue of nearly £500,000 in their first year in business.
Guru, which is based in Appley Bridge, Lancashire, has created a new kind of "cold pressed" dog food, a cooking method that is believed to retain as many nutrients as possible.
Dog lovers Andrew and Lisa Clarke developed the recipe for their "surf and turf" product when cooking meals at home for their own dogs.
"We're home feeders," said Mr Clarke. "We have always cooked our own meat and fish and vegetables for the dogs, but it is time consuming. We knew that other dog owners must have the same problem, so we looked into making a product that was as good as homemade."
The business launched in September last year with the dry dog food in two sizes, as well as a travel bone, and the founders invested £150,000 on bringing the products to market.
The food is aimed at any breed of dog, from weaning to old age.
Some 24pc of UK households own a dog and the UK's dog food market is currently worth £2bn. The Guru founders hope to tap into a growing trend for the humanisation of pet food.
Health-conscious Brits are now putting their pets on all-natural, nutrient-rich diets to mirror the healthy foods they feed their families, with rivals such as Pooch & Mutt posting significant growth in sales of its hand-baked, all-natural dog products. One million Pooch & Mutt treats are now fed to dogs every week.
"Surf and turf is my favourite meal at a restaurant," said Mrs Clarke. "I wanted to make a nutritious dog food with a recipe that owners would feel that they recognised and would like to eat themselves."
The Guru dog food was rated as a 4.9 out of five stars by All About Dogs, a popular pet owner website, which receives 70,000 visitors from 130 countries every month.
This has prompted export enquiries from Greece, Italy, Lithuania, Estonia, and Latvia. The company is in early negotiations with Pets Corner, which owns 100 stores in the UK, which could be the brand's first nationwide listing.
The Guru dog food is cooked at a 44 degrees in a short burst of heat, while extruded foods are cooked at up to 200 degrees.
The dog food is manufactured at a factory on the Continent – one of just two in Europe that can make cold-pressed food in this way.
The start-up turned over £220,000 within its first six months trading through sales on its website and local independent shops, but the Clarkes hope that an upcoming partnership with social media star @bellalovesbeau, of "Dogs of Instagram" fame, will help to drive up sales over the coming months. "Sales were strong even over the Christmas and New Year period so I'm very confident moving into 2016," Mr Clarke said.