Woody rides the Guru wave
10th July 2018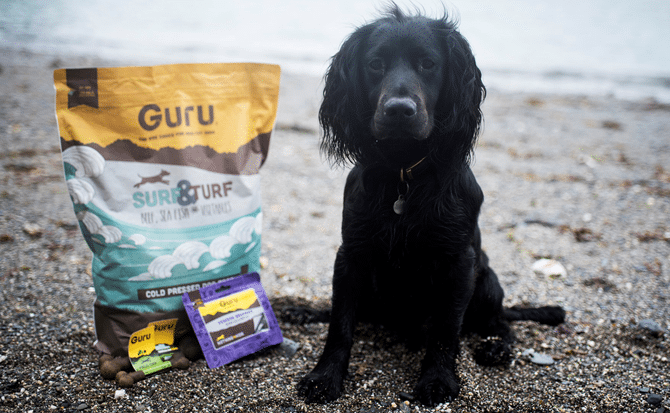 Woody has been driving me bonkers for months, refusing to eat anything at mealtimes. After trying all the pet food diet tips for feeding fussy eaters I could find, I was just about to lose all hope. That is, until I discovered the world of cold pressed dog food and our friends (or should I say saviours) at Guru*!
When I adopted Woody in September 2017, he had been fed solely on Chappie wet food. I was keen to get Woody onto kibble as soon as I could. It's often more cost effective and easier to store.  For the first few weeks we experimented with different pet food brands, mostly whichever was on offer in the supermarket at the time, before finally settling for Wainwright's Salmon and Potato. All was well and dandy for a few months, until one day just after the New Year, Woody turned his nose up completely.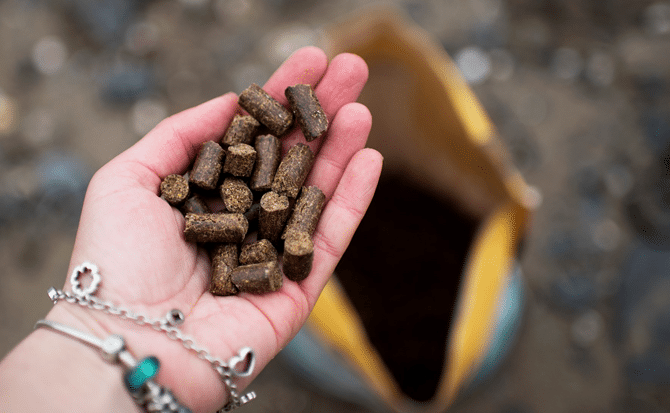 It's like he went on hunger strike. Outright refusing to eat at meal times. We ruled out medical issues early on and were left completely perplexed. At the time I dog walked professionally, which only added to the worry. With Woody walking up to 3 hours a day (and we all know spaniels don't walk, they run!) it was only a matter of time before he'd start wasting away!
Just as I was about to lose all hope, we were kindly sent a selection of Guru's pet products to try. We'd been speaking to them on #woofwoofwednesday for weeks and the team at Guru HQ were super helpful, offering us feeding advice whenever they could on how we could look to changing Woody's dog food and improve his diet.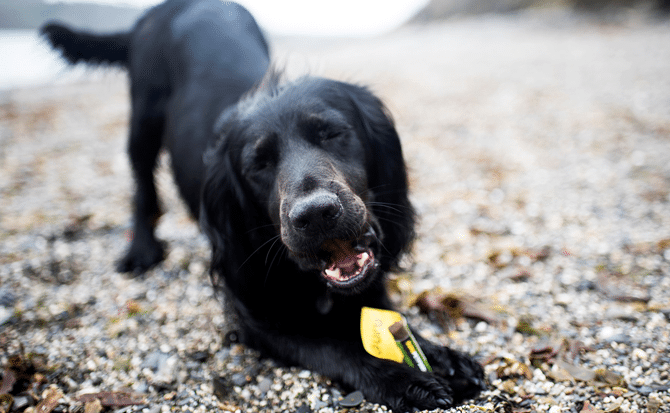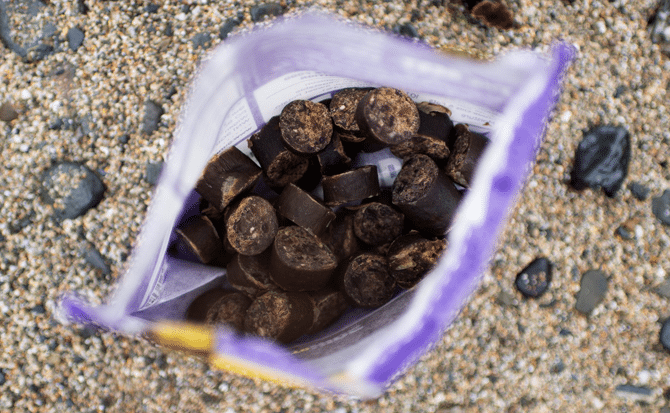 Being a Cornish dog, who loves a good walk at the beach, it was quite fitting to try Guru's Surf & Turf cold pressed food. We were sent the 5kg bag but you can purchase them in 14kg sizes too. Something we'll definitely be doing when we run out! When changing your dog's food, you're advised to do it gradually, over a period of weeks. However, with Woody refusing to eat his kibble, I took the gamble and swapped to Guru immediately.
Woody was tentative at first, a little unsure about the sudden change. The first night he didn't eat, though this is most likely because he was full from the Trip Bone he'd been munching during the day! The bones come in two sizes and are a tasty meal for your pet on the go. They're perfect for when you're out for dinner in the evening or having a barbeque at the beach!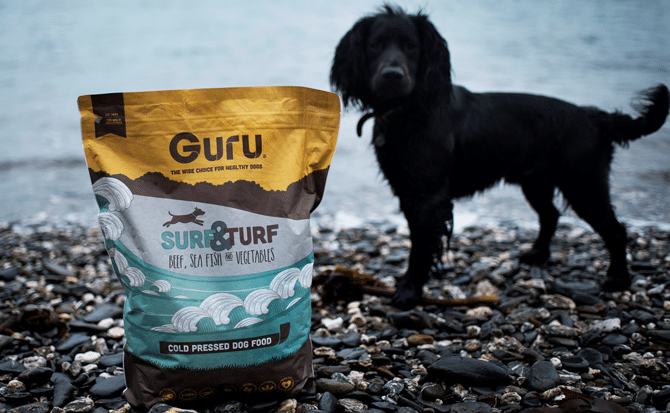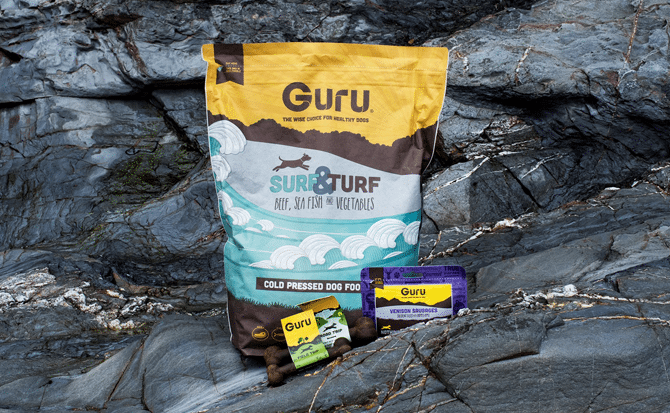 At that time Woody was accustomed to eating wet food in the mornings. With the magic of Guru's cold pressed food, I was able to mix the pellets with warm water to create a softer meal. Woody wolfed it down in no time, result! He continued to eat his Surf & Turf food from thereon in, making mealtimes far more enjoyable for both of us.
The cold pressed dog food was a success and so were Guru's tasty treats too! Particularly the Nothing to Hide Venison Sausages. They're the perfect size to take on a walk, fitting nicely into my coat pocket. I also used them for training photoshoots too. It's safe to say, they didn't last long and Woody definitely went over the recommended daily allowance of 5 treats, oops!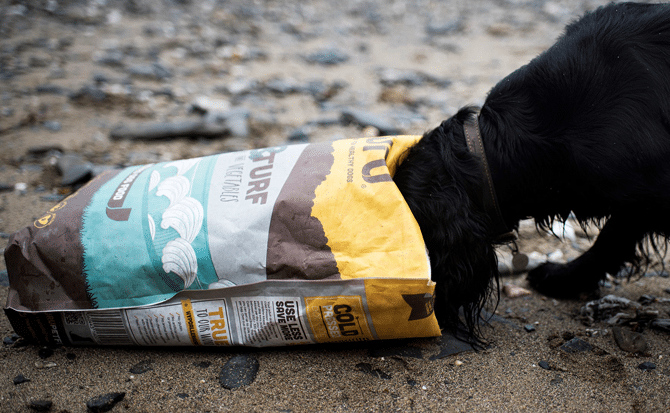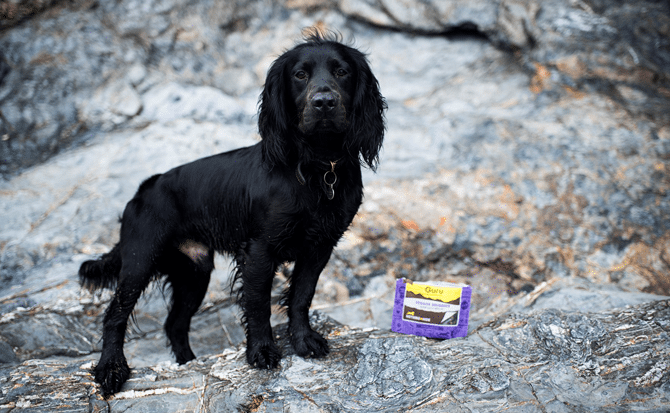 It's a paws up from us! At the time of writing this post, Woody's just finished the last crumbs of his new favourite food. We'll definitely be heading over to Guru's online shop to purchase more. Their website is easy to navigate and their handy springer spanial feeding guide helps you calculate the right amount to feed your dog. They have an amazing online community too, with Guru Geeksters up and down the country!
*Guru kindly sent us these products in exchange for an honest review. As you can see by the photos, they've been a tremendous hit with Woody so far! We'll keep you updated on the fussy eating front, though we've got our paws crossed that we're onto a winner.
Head over to see Woody's seaside adventures @TheCornishDog