Tried & Tested
29th February 2016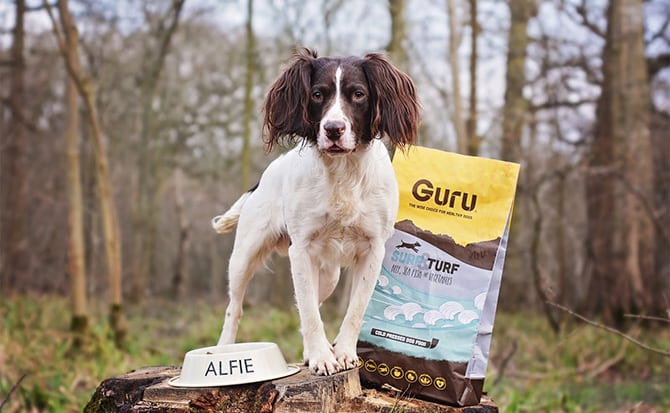 We asked the awesome Alfie Bear to try our Surf & Turf Cold-Pressed Dog Food. You can read the full review on their website here, and below…
"I don't know if you have seen but there is a real hype about Guru Pet Foods on social media at the moment, I had heard so many positive feedback that when they asked me if I wanted to try a sample of their "Surf & Turf" I just couldn't say no!"
So, what makes Guru so special?
Guru use a unique method to prepare their food, using only the finest ingredients they are ground and then gently mixed together preserving the nutrients before they are cold pressed at a low temperature of 44 degrees for just a few seconds.
On first impression it actually reminded me of pony nuts, I was a little sceptical to see if Alf would eat it (He's a fussy pooch, he'd rather starve than eat something he doesn't want).. But i was surprised when he came rushing into the kitchen – He definitely smelt it! Then devoured the little sample I put out for him. "Surf & Turf" can be eaten wet or dry, adding warm water turns it into a lovely paste, Alfie loved it! I highly recommend watching their "How to mix with water" video.
Please remember when introducing your dog to a new dog food it is important to introduce it slowly over two weeks, slowly increasing the amount of the new food while gradually decreasing their current food.. This is so important for your dogs digestive system, the last thing we want is a upset tummy.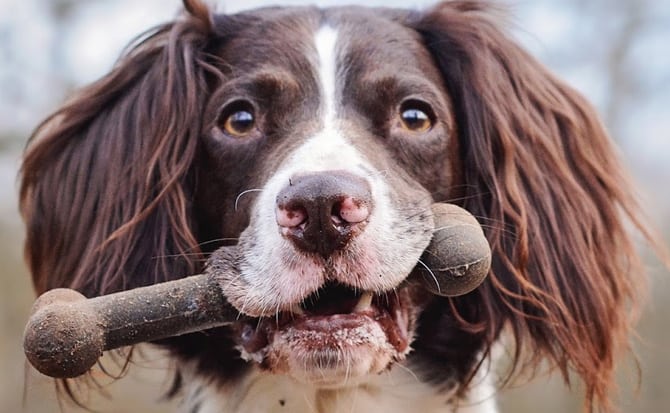 They were also kind enough to send Alfie one of their "Road Trip Bones", these can be used as a tasty treat or a complete meal on the go.. Perfect for those adventurous pooches! I think they may a great thing for me to pop in my handbag, just in case he fancies a little snack!
Are you tempted to take the plunge? I know i certainly am! Their food ticks all the boxes, it seems silly not to give it a go.
Emma & Alfie