How to slow down 'hoover' dogs!
18th July 2017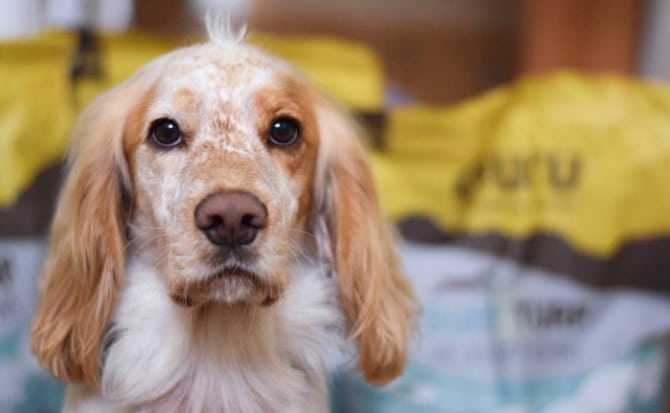 It can be very difficult to curb a dog's excitement when they see their dinner. It would seem that many Guru geeksters have this issue (quite understandable when Guruliciousness is involved) and this ultimately leads to a frenzied teatime with the food all gone in seconds! This can be quite concerning (Oscar always used to gulp after scoffing his dinner) and there are health risks associated with speedy eating in dogs.
We tried many different methods to combat the frenzy (e.g. slow-feeding bowls) but to no real avail. We came across the KONG Wobbler online and decided to try it. The results were instant and it didn't take long for Oscar to figure out how it worked (he rolls it along the floor with his nose) so that was a bonus and you can see the delight when bits of food fall out on the ground. It has also really solved his issue with wolfing down his food, making it the perfect solution for dogs who 'hoover' their dinner.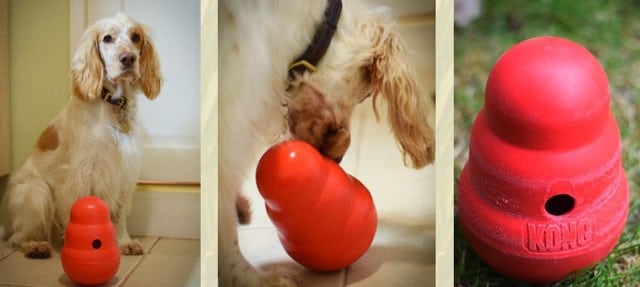 The Wobbler seems to be nice and long lasting. Ours has been used practically twice daily for 6 months and other than a few scratches and marks on the outside, it's still in good working order and a plus is that Oscar still loves to have his dinner in it because it is so much more entertaining and stimulating for him.
Guru cold-pressed food is the perfect size for the Kong Wobbler and it comes out of the hole easily but not so frequently that dinner is over in no time (instead, meals last 15-20 minutes). This gives us humans a bit of peace while pup is having a fun mealtime – though I would suggest using it outside as it is quite noisy.
The feeder has both a top and bottom half that screw together and they join nice and tightly, so that the Wobbler doesn't come undone during use. The top half is dishwasher-friendly, but the bottom half is not as it holds weights to keep the Wobbler upright.
I would very much recommend this product, especially for all those Guru geeks out there, as a great way to slow down 'hoover' dogs.
Pros:
• Really slows down speedy-eaters, decreasing health risks associated with eating food too quickly
• Fun and stimulating – good for doggy brains
• Gives the humans 15 minutes of peace
• Lasting well
• Top part dishwasher-friendly
• High quality
• Seemingly long-lasting
Cons:
• Bottom part has to be washed by hand
• Can make a fair bit of noise when being smashed about (usually used in the garden instead of indoors)
Lucy x
Check out Oscar's adventures through his instagram: @oscarcocker