Princess Piper's GURUvy Year…
15th August 2017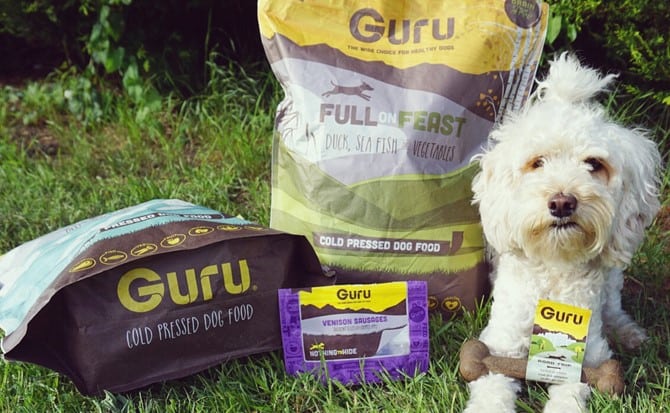 I can't believe it's been over a year now since we started feeding Guru! After hearing the shocking stories about what goes in to some big dog food brands, I immediately began doing some research and came across the Guru team on Instagram. To me it's really important that Piper is fed a well balanced, healthy & natural diet. So as you can imagine I was thrilled to discover that Guru covers everything that I was looking for!
Unlike most dry dog foods, Guru is cold pressed. It's cooked at much lower temperatures than the usual dry extruded kibble, meaning all the nutrients and flavours are locked in, making it super yummy for the dogs (perfect for fussy eaters!). The cold pressed element makes the food super gentle on the digestive system and is also great for sensitive tums. Because of the way the food breaks down, it means it can be turned into porridge by simply adding hot water. This is perfect for those doggies who like a bit of variety in life, or slowing down those super speedy eaters.
When we first joined #teamguru we started with the the Beef, Sea Fish & Vegetable flavour, more commonly known as Surf & Turf! It  went down a huge hit here! So much so in fact, that we had to in the end give up with the gradual swap as Piper used to pick out the Guru and leave her old food. It soon became evident that we had found a food that we both loved!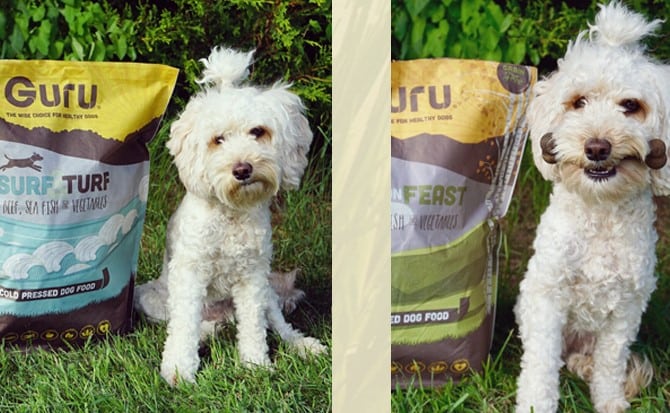 About 6 months after we started feeding Guru, they released their Grain Free recipe, Full on Feast. We were super excited to try this and just as I expected Piper went crazy for it. Piper prefers to be fed the Full on Feast food as it helps with her itchy feet, but our Labradoodle, Teddy, is solely fed on Surf & Turf as he loves the beef flavour.
We live a super busy lifestyle which means that Piper is often fed on the go. Guru's Trip Bones are the solution for us. The bones are a meal on the go, or a tasty snack. They're compact & easy to take with you. They are quite hard, so keep the dogs occupied for a while but also help to clean their teeth, perfect! A super healthy dental chew solution.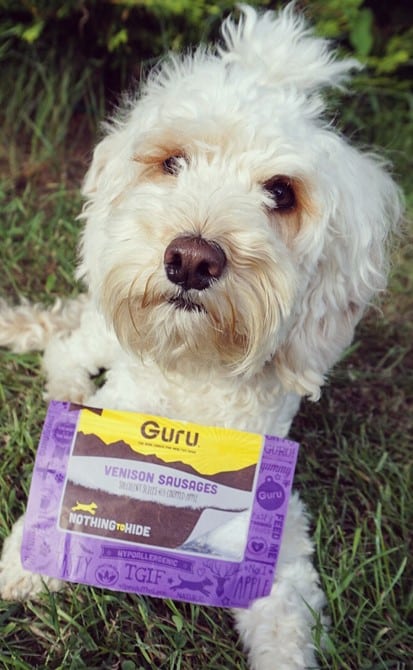 The newest Guru Pet Food craze is the "nothing to hide" Venison Sausages. These were released on the 03/07/2017 and Guru Geeks all over the country were doing the #sausagedash, trying to get their paws on these tasty treats. The sausages are completely natural and only contain venison, sweet potato & apple- ideal training treats! These are probably one of Piper's favourite treats to date, she sniffs them out from miles away! The soft, juicy texture is certainly a hit with her!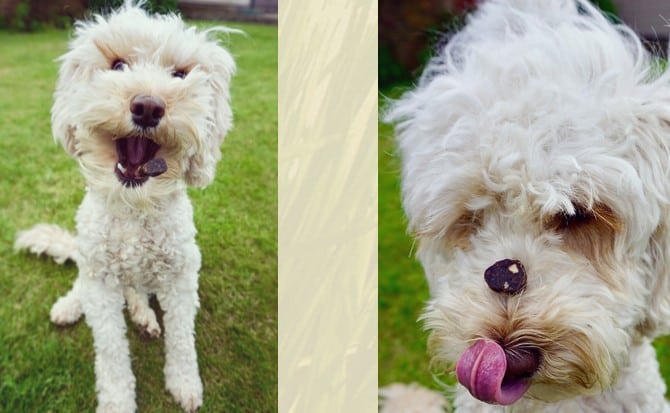 Guru has been a real game changer for us! When I was researching dog foods I was concerned at how much the better brand were going to cost. I couldn't have been more wrong! Piper eats 40-45 grams of food per meal, depending on activity levels and this costs around 35-40p a day! £12 a month to feed one of the best dog foods available! (That's actually less than the poorer quality food she was fed previously, a win win situation!). Because the food is cold pressed, it is much denser and therefore you feed 1/3 less than normal dog kibble. This means a bag of food lasts 30% longer, so subsequently works out to be a really affordable food for your dog.
If you don't believe me, you can check out the allaboutdogfood website (www.allaboutdogfood.com). Not only can you read other customers comments, this website produces independent reviews in a huge range of dog food available on the UK market. Guru scores 4.9 out of 5. You couldn't get much better than that!
We hope you've enjoyed reading about how much we love Guru Pet Food!
Emily & Piper xx
See Princess Piper's adventures over on Instagram, Facebook & their pawesome blog.