Our top walking routes
26th April 2017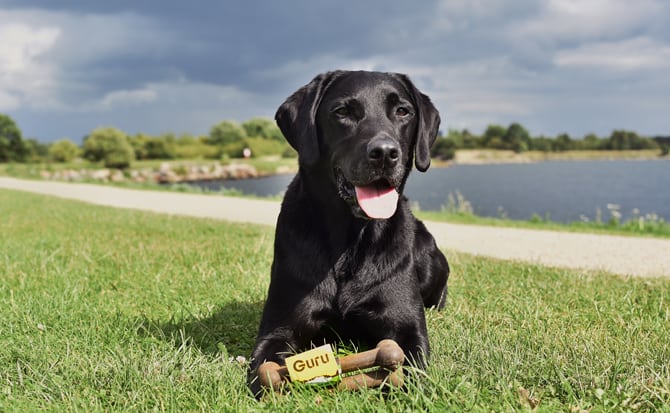 Here at Guru we absolutely LOVE walking our dogs…
Not only is it beneficial for their health, it's also beneficial for ours! And it also gives us the opportunity to admire the spectacular scenery of the British countryside.
Ordinarily, we take to ambling around the fields, usually twice a day, on a well-trodden route that our dogs are more than familiar with. And while they certainly enjoy it, it's good to take them out to explore some new scents, sounds and sights now and again.
So where, in our humble opinion, are some of the best places to take your dogs if looking to go out a little further afield?
There are some fantastic dog friendly places to take a walk, and here are some of our favourites that we've encountered over the years:
Hardcastle Crags, West Yorkshire
Yorkshire is blessed with some spectacular scenery and Hardcastle Crags, just west of Halifax, is a delightful Pennine valley that supplements stunning riverside views with oak, beech and pine woods full of tumbling streams. A walk in spring at the right time will catch the bluebells in full bloom, while Gibson Mill offers a sample of Britain's industrial past.
North York Moors, North Yorkshire
Another glorious part of Yorkshire to consider is the North York Moors. There are several routes to take, with Newtondale offering a lovely forest track. The moors do have stunning open field routes, but there's chance of livestock being present, as well as the need to take care due to rare birds nesting on the ground at certain times of year, so we recommend Newtondale for the opportunity to give the dogs freer rein. More guidance from the national park authority can be found here.
Studland Beach, Dorset
One of Britain's most beautiful natural coastlines, Studland Beach offers four miles of golden sands, with the heathland behind the beach a haven for native wildlife – including all six of Britain's reptiles. A cautionary note on this…keep to the paths when on the heath as adders and ticks are a potential risk, but one that's well worth taking for the breath-taking scenery.
The National Trust has some pointers to bear in mind, check them out here.
Craster to Low Newton, Northumberland
For some more rugged coastal walking, why not take the route from the fishing village of Craster through to Low Newton-by-the-sea. Enjoying the ruins of Dunstanburgh Castle en route and the long sweep of Embleton Sands, makes this an unforgettable walk with some incredible natural beauty that your canine companion will enjoy as much as you.
Clent Hills, Worcestershire
A slightly more sedate, midlands-based walk that we like is The Clent Hills. These are about 10 miles south of Birmingham and offer an easy circular walk, that passes through fields and woodland, with some fantastic panoramic views as part of it.
And for something slightly different, why not try a city walk…
The Water of Leith, Edinburgh
If you're looking at a city break and want to get in some dog walking too, then the Water of Leith offers an excellent chance to enjoy some natural beauty, right in the heart of a city. Stretching for miles through central Edinburgh, at some points you'd be forgiven for thinking you're taking a country river walk…but with bustling Princes Street and the Royal Mile still within easy distance.
One key tip from us…
Don't forget to take a couple of our cold pressed Field or Road Trip bones with you, they're super handy mid-walk. They're great for an energy boost – and delicious for your dog to boot!