Like a dog with a bone…
5th March 2018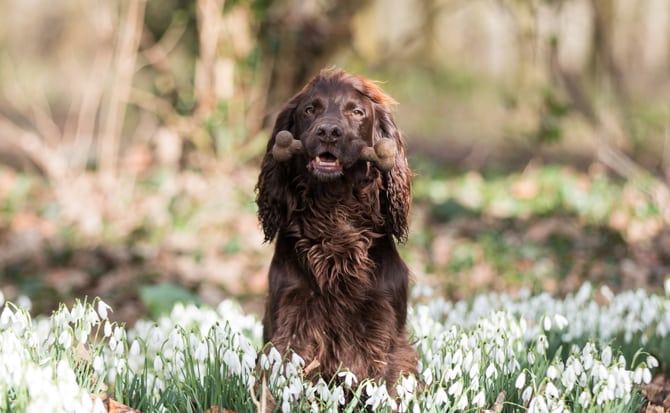 Like a dog with a bone, that's what we're like when we've been given our Guru Trip bones. I'm very lucky to have the best job in the world in my eyes, and part of it means a lot of travelling and photoshoots with my dogs.
When asking a dog to do any task they should always get something positive in return, whether that is toys, treats or a tickle on the tummy. So this is no different out on our photoshoots. For me it's treats to keep the dogs calm and in the same position, small treats are ideal for this, regularly rewarding them but not filling them up or making them ill. For this Woody always has his normal Guru food, he is absolutely obsessed with it so why not use his meal as treats. Wilma drives a bit more of a hard bargain and will only work for high priority treats, this is usually the Guru Venison sausages.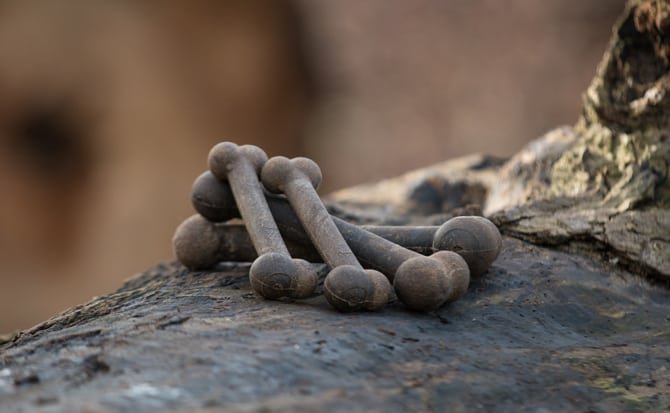 But for bigger blogging trips a bigger treat is needed! When away from home, if it's just for the day or even longer, being able to settle your dogs is so important – one of the first things I train my dogs. There's nothing worse than meeting up with a friend and their dog just won't settle, instead is wriggling and jumping around all excited inside a cafe or restaurant. My dogs are absolute stars at this, especially Wilma [If you followed our recent trip to London you'll know she literally falls asleep anywhere]. 
Whether they settle quickly or not, giving your dogs a bone or chew is the perfect way to calm a situation down. Leaving you in peace to enjoy a drink or meal with your dogs at your feet. The Guru trip bones are perfect for this, not only are they chewy taking the dogs a long time to munch on them; but they come in two sizes to be your dogs complete meal. For the smaller dogs [Wilma] there's a mini bone and for the big dogs [Woody] you guessed it, a bigger bone. Perfect for a meal on the go!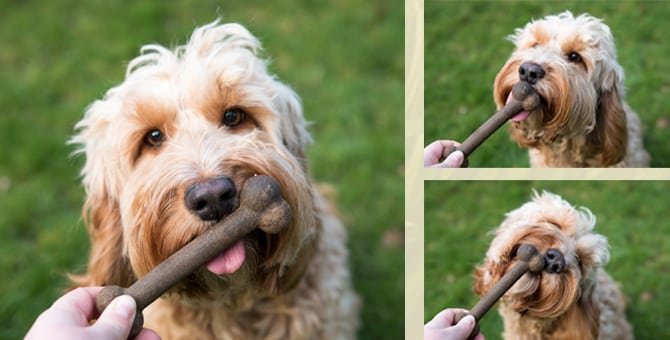 I don't use these to give them a meal whilst we're travelling just because I don't want to risk them being travel sick. But if we're in a pub or restaurant, working on location on a project or just visiting friends the bones are their meal and are quick and easy to pack.
Plus every Tuesday is #tripbonetuesday so you can share your trip bone photos on social media and tag the Guru geeks for them to see. My favourite photos have to be the ones of the dogs holding the bones in their mouths. I'm yet to teach Wilma this trick but Woody is a pro!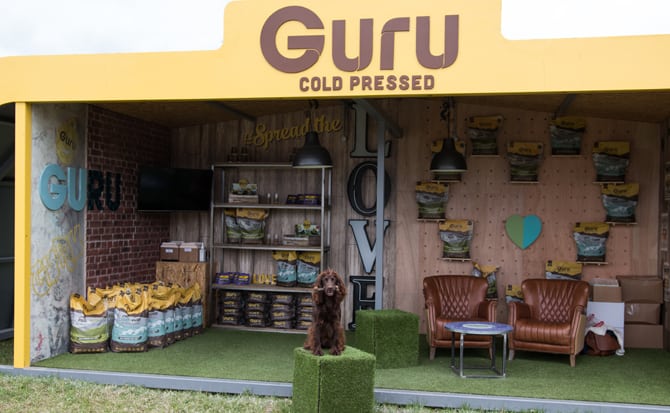 Why not get some trip bones with your next Guru order and try them out, you won't regret it!
Thanks for reading,
Megan, Woody & Wilma xox
See more of our adorable Country GeekSTARs: