GeekSTARs – Up close and pawsonal
30th May 2017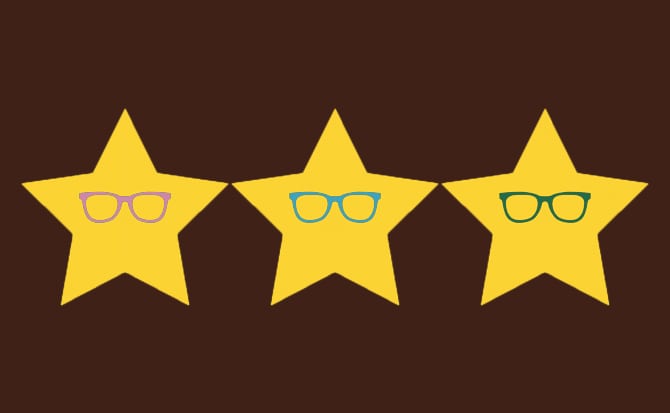 Roll out the red carpet and get those royal trumpets at the ready, because it's time to give a HUGE Welcome to our shining new GeekSTARs!
We're super excited to announce our newest members of #TeamGuru…
Congratulations and applaws go out to our three Elite Geeks, who we're so excited about getting GURUvy with! They'll woof about all our wonderful news via their blogs and social media posts, which will include taste testing new products, attending shows with 'The Mother Ship' and buzzin' about up and coming offers, giveaways and new products.
As you all know, our previous Ambassadogs include the very famous @bellalovesbeau along with our current most adorable furiends @spaniellife. Don't panic Geeksters, Spaniel life will be with us until the end of August and promise us they'll be attending most of our shows this year xx
So with the bar set so high, we asked Geekster Sam to get 'up close and pawsonal' in a sneak peek exclusive interview with each of our gorgeous GeekSTARs before they shout all about it on social media.
It's a definite must read, so grab yourself a cuppa and let's get ready to #SpreadTheLove…
A-List GeekSTAR
First up, let me introduce you to our A-List GeekSTAR, the adorable Amelia and her beautiful Mum Eva. You may ask, why A-List GeekSTAR? Well, they're a girl cav duo, who strut their stuff around London, meeting and greeting fans, fighting off the pawparazzi and did I mention, they like all things pink!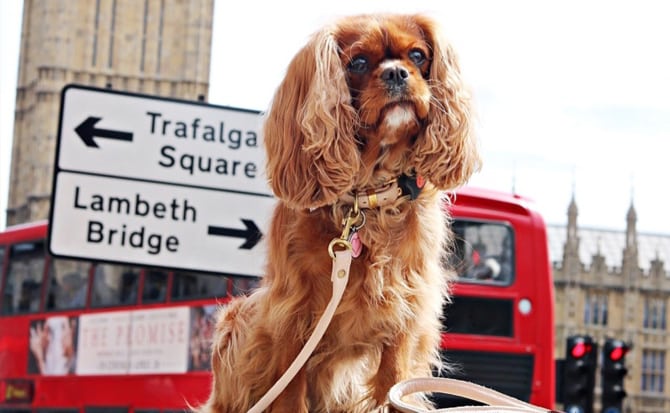 I was lucky to grab enough time for a quick interview and here's two sneak peek questions I asked them to wet your appetite…
Have you met anyone interesting/famous on your blogging journey?
"We have! I'm sitting here wondering who wouldn't mind being mentioned. I wouldn't like to mention more personal encounters but publicly we have met with Siobhan Ferguson, the woman behind Pretty City London, we were asked to do a photoshoot with her and will be featured in her new book on London. The famous makeup artist Tania Grier, she loves Cavaliers & has done the make up for just about every celebrity you can think of! We were totally starstruck when meeting Clym Evernden the famous fashion illustrator. When you look at the luxury shop windows (like Tiffany & Co) he has done the artwork in them. Amelia got up close and personal giving kisses to Thomas Bjørn the European Ryder Cup Captain." 
If you could have any super power what would you choose and why?
"Superpower! I would love to be able to speak to animals – does that count? Of course in order to speak to Amelia, but I also try to have conversations with my horse and even pigeons! Would make my life so much happier if I could have real conversations with animals."
If you want to know more about this delightful duo, be sure to head over to Eva & Amelia's world and check out my full GeekSTAR interview!

Adventure GeekSTAR
Next up, a dapper dog who leaves his paw prints everywhere he goes… it's our Adventure GeekSTAR Maximus and his lovely human Charlotte. If you check him out on social media you may need time to catch your breath, as every day is an adventure for this handsome Geek who's always on the go!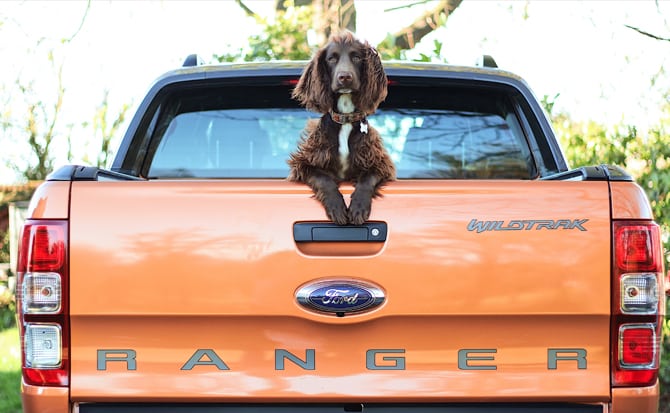 I managed to catch up with him for a quick pit stop on his way to yet another adventure…
Welcome Charlotte and Maximus to #TeamGuru tell us a little about yourselves.
"Thank you! I am so excited to join the team. I'm Charlotte, I'm 16 and have a huge passion for photography. Maximus is our soon to be 1 year old Sprocker Spaniel, he is the main focus of my photography. I have a twin sister called Neve who regularly helps behind the scenes. We love going on new adventures around the British countryside, there are so many different places to explore. 
I am currently studying for my A-levels. After this I would love to get into blogging and animal care as a hopefully permanent job, with a side hobby of photography of course!
I've really enjoyed sharing Maximus' adventures on Instagram, its such a lovely community. I have always struggled to make friends at school so it's been so nice to interact with people online that share a love for dogs like me." 
If you could have lunch with anyone, who would it be and why?
"That's a tricky one! I've thought about it a lot and have decided on a celebrity I've loved since my childhood: Cole Sprouse. You may know him from the Disney Channel TV show: Suite Life of Zack and Cody. I used to love the show when I was younger, especially because I have a twin too. He also stars in my current favourite TV show: Riverdale, a programme based on 'Archie Comics', as a character called Jughead Jones. As he's got older he has found a passion for photography and writing which I have found really inspiring. He has such an artistic eye and he's so expressive and poetic with his words. He brings a simple photo to life, it's such a skill, one I admire."
Country GeekSTAR
Last (but certainly not least) we have our Country GeekSTARs! The Cotswold Cuties, Woody & Wilma, together with their talented pawrent Megan make the perfect team. Exploring the great British countryside and getting as muddy as possible along the way… (who doesn't love a soggy spaniel?)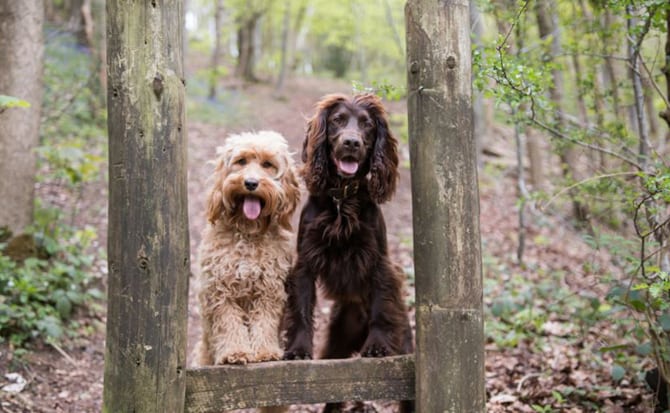 I've known these Cotswold Cuties for quite a while now. It's time to get down and dirty in my exclusive interview…
How do you balance your photography business (Megan Williams Photography) with your blog?
"There's always so many exciting projects going on with both my photography and blog work, but I'm so lucky that I enjoy every minute of both of them so there's never a reluctance to work. Also there's such a variety in what I do, with my photography I get to meet so many amazing dogs and owners. Yet with blogging I photograph my favourite models [My dogs] and learn about a huge variety of dog products & experiences on the market to share with everyone." 
If you could travel anywhere in the world, where would you go?
"I've not got much of a desire to travel but I love finding dog friendly destinations in the UK, especially coastal and the countryside. For the dogs they adore any where with a beach – or anywhere with water in Woody's case. With the dogs by my side we have the best trips and adventures."
Check out my full GeekSTAR interview on The Cotswold Spaniels blog and find out some tips & tricks about blogging/photography from our terrific trio…
Well there you have it folks, a sneak peek into my exclusive interviews. A BIG thanks to our A-List, Adventure and Country GeekSTARs for being so open and honest. I'm looking forward to meeting Amelia & Maximus for the first time and of course our Cotswold Cuties once again at this years events, when GURU goes on the road again!
Thanks for reading and continuing to help us #SpreadTheLove
Until next time… hugs, wishes and Geekster kisses to you all xxx