Gaga for Guru
31st May 2016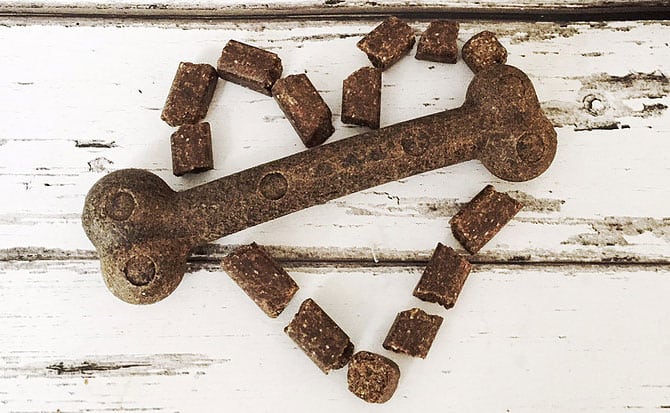 Thank You to Barks & Bijoux for this lovely article.
Feeding Frenzy
French Bulldogs are known for their somewhat 'sensitive' digestion, so it can be a constant struggle to find a food which suits Mabel. We have tried many things over her three years and as a puppy it was particularly hard, with a fortune spent on vet bills and many courses of probiotics. For the most part she is fed on raw, but it is not always convenient and she often has periods where she goes off certain raw meats (even though she will happily eat the same ones cooked!)
We have been following the adventures of Guru Pet Food for a while now, and were intrigued by their 'cold pressed' method, where premium ingredients are ground, then gently mixed together before being pressed at low temperatures to ensure that the valuable nutrients don't get lost in the cooking process.
We love Lisa & Andrew's dedication to giving dogs the best diet possible and we were thrilled when they asked us if we'd like to try a sample* and Mabel was very excited when the postman delivered her beautifully packaged treats.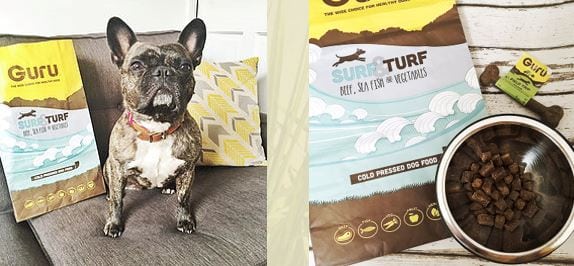 Surf & Turf
Guru's complete food for dogs comes in a 'surf and turf' flavour which is Lisa's favourite when ordering out at restaurants, and it certainly didn't disappoint Mabel either who loved it on it's own; mixed with a little warm water and for a breakfast treat on top of some scrambled eggs.
She also loved their Field Trip bone, crying loudly at me while she waited (not at all patiently) for me to hand it over! This is the same cold pressed food in a bone shape and is ideal for those mealtimes when you are away from home, or for an extra treat.
If you are looking to give your dog the very best ingredients, we'd definitely recommend giving Guru a go. Mabel loved it, and so did we! xo
*Although we received this a free sample from Guru, all views are entirely my own (and Mabel's!)