Cockers in the Country
31st July 2018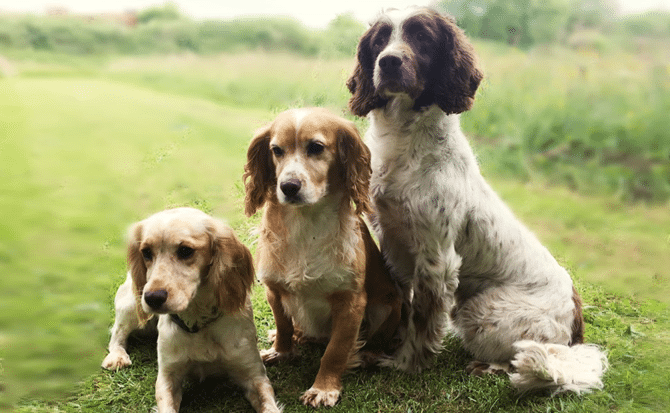 As a veterinary nurse and diligent 'dog mum' I feel it is my responsibility to make sure Isla, Jelli & Bracken are all fed the healthiest, most nutritious food possible. I completed a Small Animal Nutrition Certificate after qualifying as a veterinary nurse so I knew what I should be feeding and why – the problem was finding the right food!
Rewind several years and we have tried numerous foods, not one had the desired effect for the dogs. They lost coat condition or lost weight. Had a noticeable increase in excretions (yup, I mean poop!) or just didn't want to eat it.
We tried expensive, super premium foods but found these had a tendency to make the dogs put on weight but lack coat condition, cheaper foods just made them poo more. Raw food was always going to be the best option, however that is not without certain risks and complications which I was not prepared to take – such as salmonella and pretty much needing a designated dog food freezer!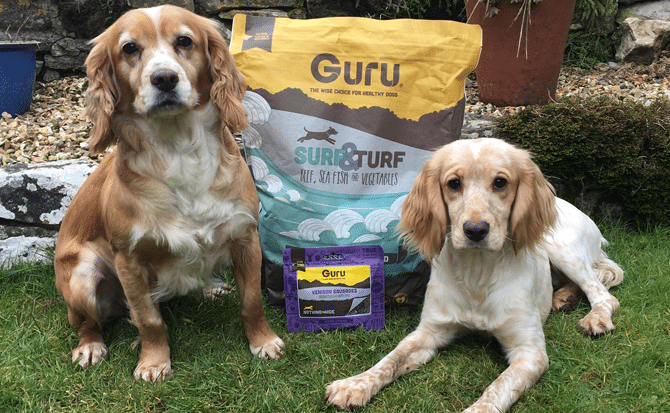 Now fast forward to June 2017! The pitter patter of tiny paws graced the household and we had 4 extra mouths to feed! Fast forward a further 10 weeks and due to some unforeseen circumstances it became apparent that one of these bundles was going to be staying put! Welcome to the family Jelli!!
As a super active working cocker spaniel with no fear or trepidation I knew I had to find a food that would support Jelli during the critical growth stages and one she actually liked – we tried several foods that she would turn her nose up at and then found Guru – since that point we have never looked back!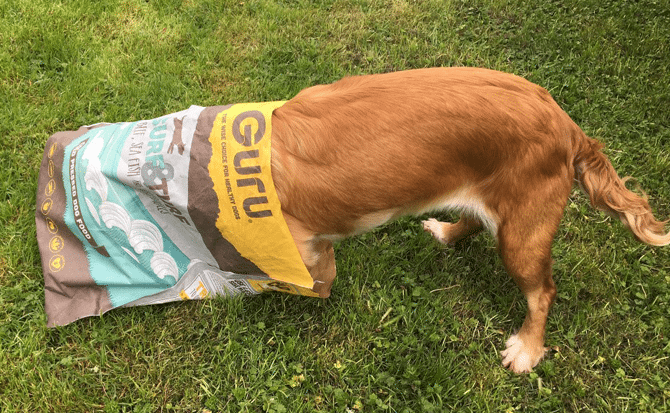 All three dogs are now fed Guru and I can honestly say that Guru is the best food for our spaniels (and no, i'm not being paid to say this either)!!
Jelli has reached a year old now and adores her food, the bowl is always licked clean, she has a fabulous coat and body condition and totally thrives on it. Isla and Bracken are also doing amazingly well on it. At the age of 8 Isla looks and acts like a puppy which I truly believe is down to being fed a great diet – Bracken on the other hand has always been a very lean dog and can sometimes look a bit 'ribby'. Feeding more of his previous food just resulted in him being sick or bloating and then having a very upset tummy. Since changing him to Guru he is fitter, has put on more muscle and weight and his coat condition has improved massively! It's great that it will feed all the dogs regardless of their age too!
So what makes Guru so great? Its cold pressed for a start which means it hasn't been cooked at really high temperatures which destroys a lot of nutrients in foods. It also means it doesn't need to be coated in fats and preservatives to make it taste nice! The pellets don't swell up either like other kibbles do – this can lead to bloat and other very serious conditions in dogs – especially large or deep chested breeds – which can be fatal.
It contains natural ingredients including beef, sea fish, sweet potato and green lipped mussels. The food is pressed into a pellet form which is perfect for adding warm water and re-hydrating into a porridge  – perfect for weaning puppies or for the golden oldies who need something a bit softer! Guru comes in two flavours as well! Full on Feast (think roast dinner for dogs) and Surf and Turf (our favourite) which is a blend of beef and fish!
There are no additives, E numbers, artificial flavours or nasties hiding in the Guru food and this is extended to their treats too! Isla inspects each nag to make sure there are no little bits hiding!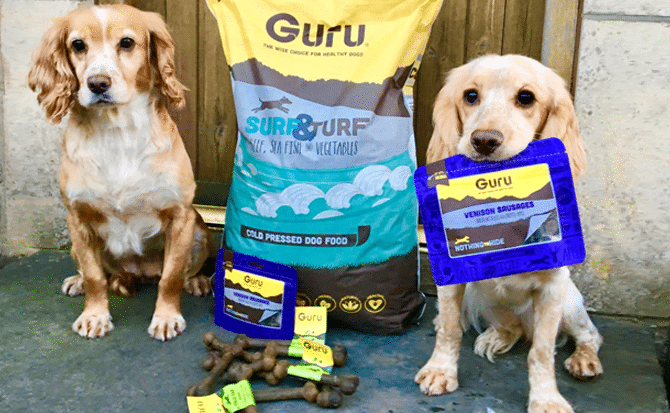 (Gosh – it really does just keep getting better doesn't it!)
So what to treat the dog who will only eat the finest of foods? Venison Sausages perhaps, or maybe Reel Fish Skins (these are new and super yummy!) We use the Venison sausages (contain sweet potato & apple too) for our agility and obedience training. Both the cockers will work their socks off for these as they are soooo tasty!
The Reel Fish Skins are a new addition to the Guru Family and are a 'reel' winner (see what I did there!) with all the dogs – a little crunchy they are super for dental health but can be soaked for a slightly softer treat! They come in a resealable packet too so great for keeping in the car for a treat or in your bag with no worries of people getting a meaty or fishy whiff!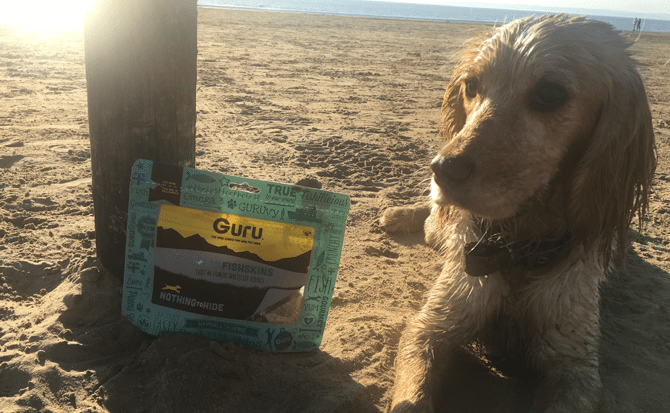 Finally (yes I know i'm going on but it is a FURbulous food) for those nights away or long road trips it can be a bit of a faff to measure out and pack dog food! Introducing the Trip Bones! These can be a longer lasting treat or a meal substitute – still full of the same health benefits and absence of additives & nonsense but a chicken flavour instead of the normal Guru flavours!
So in conclusion (yes i'm finished now) I cannot rate Guru highly enough – it has transformed our dogs and I recommend it to friends, clients and anyone else who stands still long enough to talk about the dogs! We love being part of the Geekstar Crew and have our paws crossed we may get to be official Geekstars soon! Both Jelli and Isla would LOVE a Guru bandana to wear with pride and continue to spread the Guru Love!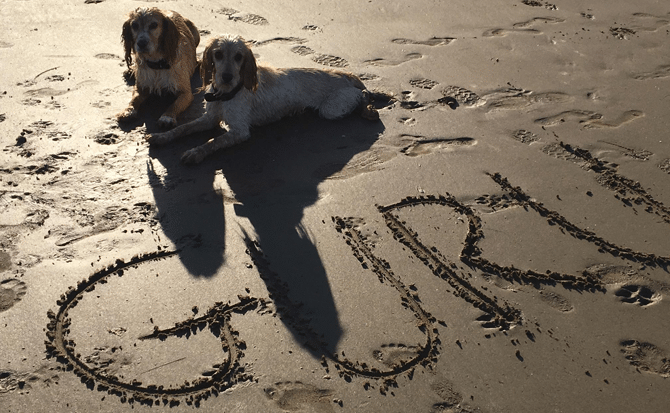 Check out their website and change the way you feed your dog today (plus add some treats into the basket cause they are super Paw-some and your dog will love them!) Plus it's usually next day delivery!
Love,
Cockers in the Country xx
(This blog is based entirely on my own experience with Guru, we have received no monetary or product incentive from Guru in return for this article)