A visit to make your dog's mouths water!
17th April 2018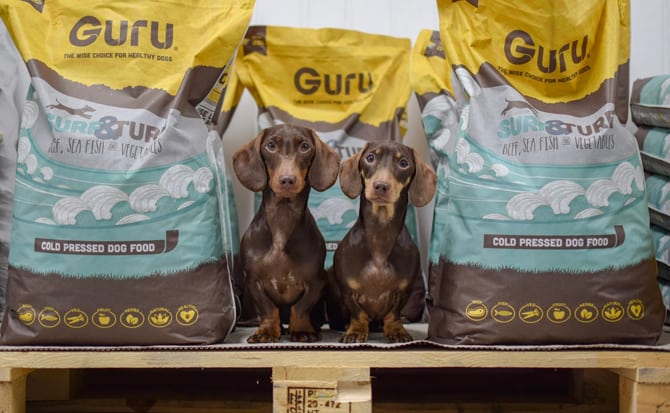 On the way back from our recent holiday with the boys, we were lucky enough to visit Guru HQ and our favourite Geeksters! As we mentioned in our previous blog, on the way home from our recent holiday, we thought we would stop in to visit Guru. We had wanted to go and see them for a long time and thought this would be the perfect time.
When We Arrived
We arrived at Guru HQ full of excitement and when we pulled up outside, the boys instantly shot up out of their bed. They must have known they were in for a treat! We opened the car door, stretched our legs and the boys both sniffed the air. They most probably could smell their food, exciting them even more. Before we even were able to ring the buzzer, the door had already opened and the lovely Lisa (Co owner) and Sam greeted us with beaming smiles. Tails wagging, the boys both got lots of fuss (and us too!) and we headed upstairs. It was really cool to see where the magic happens. We also got to meet Steph, who had recently joined the Guru team. We chatted for a while, whilst Jacob & Bruno made themselves at home. They sniffed every nook and cranny in the office, had their noses in every box they could and even made sure the delivery man knew they were there by giving him a bark (or two!).
The Tour
Lisa offered us a tour and before we could accept, the boys were already by the stairs waiting for us! We made our way down to the 'Packing Room' where all of the yummy food and treats were stored before heading out to all of the Geeksters!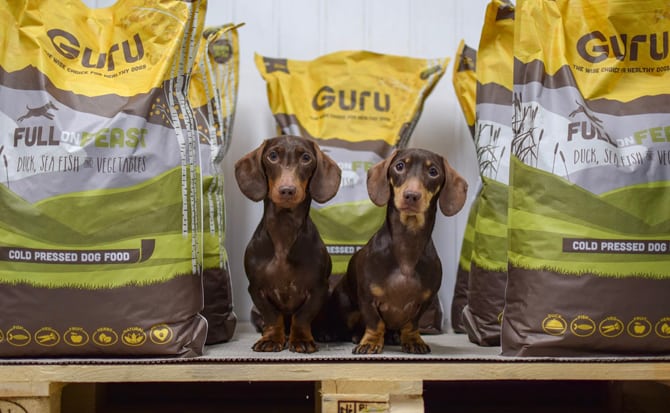 Oh my Guru! we had never seen so many bags of dog food and the boys were in their element. They ran over to their favourite food, the Full on Feast. We know that this is their favourite as they always get so excited at dinner time and when we first fed them the food, they licked and licked and licked their bowls clean, more than they ever used to! Jacob & Bruno have been eating their scrumptious Full on Feast Cold Pressed Dog Food since early last year. As the food is cold pressed, it locks in all of the goodness, which we can see has really benefited the boys as we get a lot of compliments on how healthy they look, especially on how shiny their coats are! We also find the online feeding guide really useful, meaning the boys weight has stayed consistent, which with any dog, can be tricky!
We had a mini photo shoot in front of the bags of food, which is a Geekster tradition. Every time a Geekster visits Guru HQ, they take a photo amongst their favourite food!
Earning Their Treats
After we had finished taking a few photos, it was time for Jacob & Bruno to earn their treats! Guru launched their wonderfully yummy Venison Sausage treats last year and the boys absolutely adore them. The boys were given two whole boxes full to help sort out, which they sniffed and sniffed and couldn't wait any longer to have a few! The treats come in a really handy re-sealable packet, which seals in the goodness. There's nothing to hide with these treats!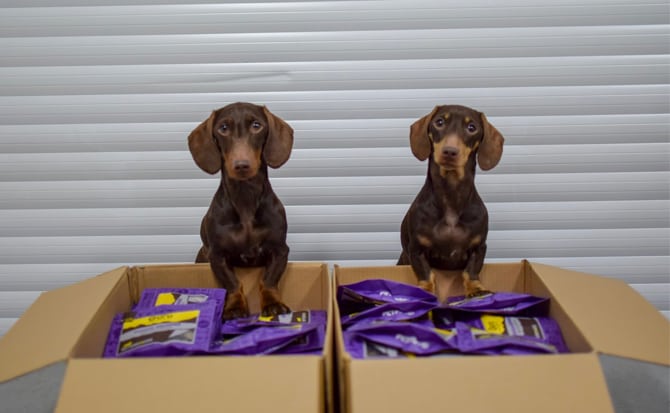 The venison meat is sustainably sourced in the UK and contain NO:
Gluten
Grain
Dairy
Soya
Beef
They're also Hypoallergenic! Perfect for Jacob & Bruno.
They finished 'sorting' the boxes and were on to the next adventure!
A Bone For The Trip Home
It didn't take Jacob or Bruno long to sniff out another one of their favourite treats, the famous Guru trip bone. We still had a good few hours until we would be home, so the Guru trip bones come in very handy. They have two sizes of these bones, the 'road trip' for the larger dogs and the 'field trip' for the smaller dogs like Jacob & Bruno. They're perfect for long journeys, days out and adventures as they act like a meal on the go. The boys certainly enjoy them!
Homeward Bound
Before we knew it, it was time to head home. What fun we had all had! It was absolutely wonderful to see Lisa and Sam again. We already knew how passionate they are about Guru and going to the heart of it all was lovely. It makes us equally as passionate about the food as they do such a brilliant job. Jacob & Bruno were spoilt rotten and didn't want to leave and to tell the truth, we could have stayed there for longer too!
Before we headed off, Andrew (the other co owner & Lisa's husband) turned up! We had met Andrew at Dog Fest and it was great to catch up with him too!
We are really grateful for the special relationship we have with these guys. We really do urge you to check them out, their food has done wonders for the boys and it's great to support such a wonderful company!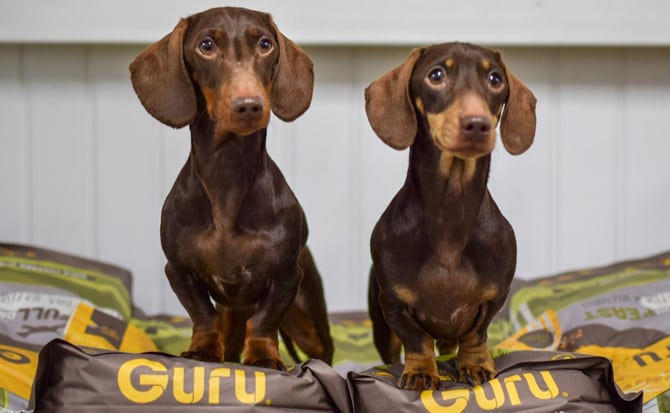 Thanks for reading
Oli, Jay, Jacob & Bruno xx
#Spreadthelove
See more of this pawfect pair over on their:
Instagram | @jacob_bruno_mini_dachsunds